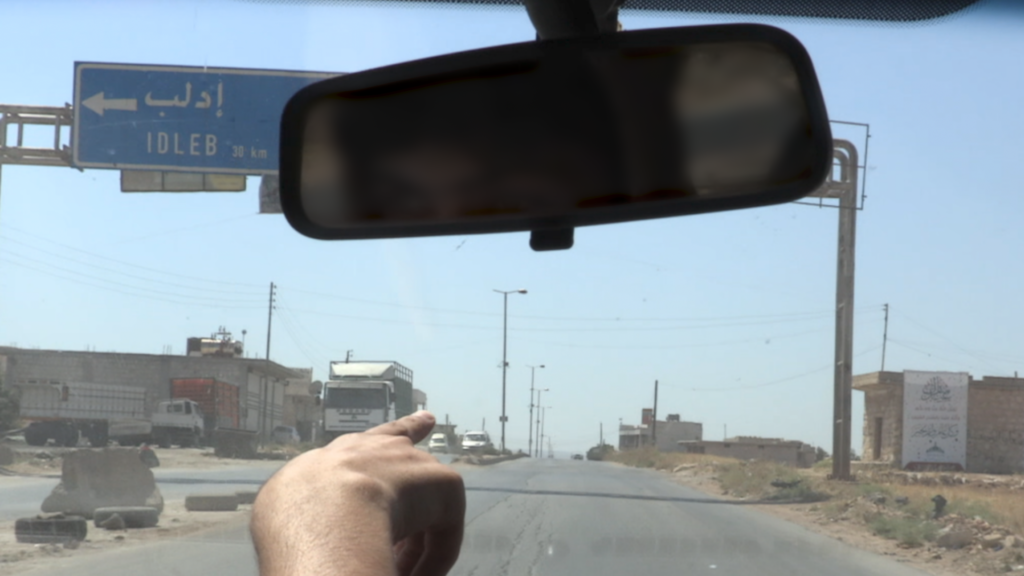 "Every day is difficult. There is a constant sense of chaos," said Mohamed Fajr*, a 22 year-old former Syrian National Army militant living in Atareb, a town in the Idlib countryside. The Syrian National Army (SNA) are a group of militant Syrian opposition factions supported by and under the control of Turkey.
"I feel like I'm on a sinking ship, and there's nowhere I can go," he said. "We are just standing here, waiting to drown. And one of the biggest reasons for that is Hayat Tahrir al-Sham." Hayat Tahrir al-Sham (HTS, formerly Jabhat al-Nusra, al-Qaeda's affiliate in Syria) controls much of Idlib and its countryside, inflicting an ISIS-like iteration of Sharia law upon those forced to live under their rule.
"HTS is not part of the SNA factions Turkey is officially supporting, but unofficially, Turkey is behind them," Fajr said. "With Turkey's support, HTS destroyed the opposition factions who were not directly under Turkey's control. I was in a faction called Nour al-Din al-Zenki. In early 2019 in Atareb, HTS defeated Nour al-Din al-Zenki. The fighters from Zenki had to leave to Atareb and go to Afrin, and we were split up among the SNA factions there. I became a member of Sultan Murad [a faction of the SNA], but eventually, I quit so I could come home to Atareb and stop fighting."
Upon returning to Atareb, the first thing Fajr noticed was that his closest neighbors were gone. "In their place were an Egyptian HTS commander and his wife," he said. "When Atareb was under the control of the SNA factions, the fighters who lived here were mostly from around here. But with HTS in control, it's like living under ISIS. Many of the fighters and most of the leaders aren't Syrian, they're foreign. Women are forced to wear a niqab to go outside. We have to smoke cigarettes in private, because it's outlawed."
Fajr says that, while it's rare to see Turkish soldiers inside Atareb, their influence is palpable. "Let me give you an example of how much Turkey is truly in control of HTS," he said. "In December, Turkey wanted to build a base near here. To do this, they wanted to evict five families from homes they'd been in forever. But Turkey didn't do it themselves; they got HTS to do it. HTS evicted the civilians by force and Turkey got their land." According to Fajr, the civilians evicted in Atareb now live in a camp in Idlib. Turkey has not compensated them for the loss of their homes.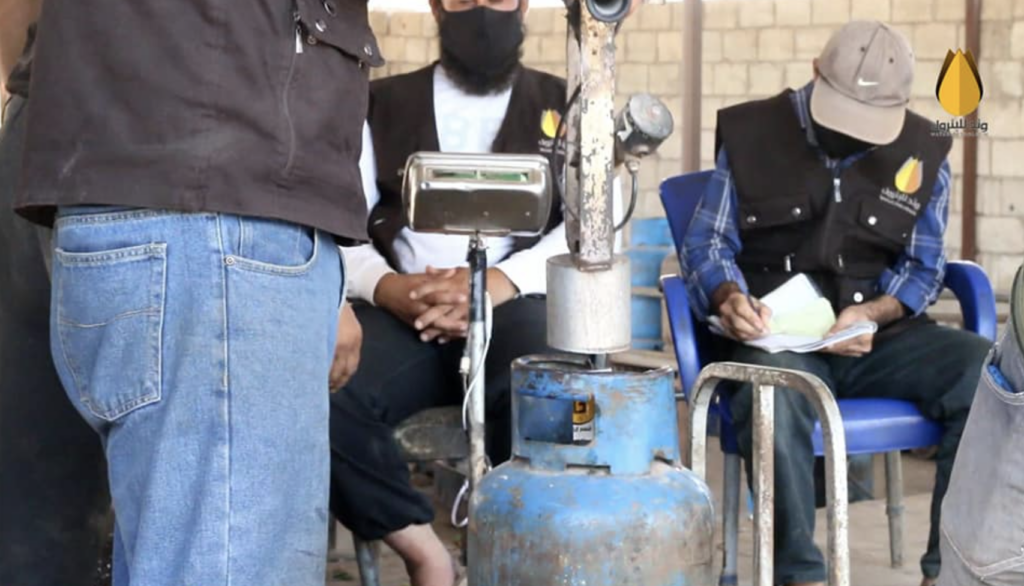 "I think the worst thing about HTS controlling the area has been the way they have taken control of all business," Fajr said. "They have forced the people of Idlib and Atareb to deal with the Watad Company for fuel. This company has an absolute monopoly on the fuel business in Idlib. They only export from companies in Turkey, whereas in Afrin, there is more than one company and they are importing from inside Syria, too. The fuel is much cheaper outside of Idlib."
Fajr says that in late 2020, HTS began inspecting the fuel tanks of civilians traveling from Afrin to Idlib. "If a civilian coming from Afrin has more than around 20 liters of fuel in his tank, they will fine him," he said. "It's a way to force civilians to buy from their gas company. At times, HTS has blocked the passage of civilians from Idlib to Afrin to prevent them from trying to buy fuel there."
"It's not just fuel that HTS is controlling," said Samir al-Khateb*, a 45 year-old shop owner living in Idlib. "It's ovens, and vegetables, and restaurants, and clothing. HTS has their hands in everything that has to do with money here. No trade happens without them taking a portion. They charge any business owner a monthly fee, like a tax. Sometimes that fee is more than half my income. But HTS also forced many business owners to surrender their business entirely to HTS, so I guess I am among the lucky ones here."
Samir al-Khateb has a 25 year-old son living in Germany. "Once, my son tried to send me a small amount of money," he said. "But even the money transfer office in my area is affiliated with HTS. And to try to receive money from Germany was very hard, because they asked me many questions about where the money came from and who I know in Europe. It was frightening, really."
Al-Khateb's younger children should be in school, but like many civilians in Idlib, he's decided sending them is not worth the risk. "They also control the schools in their areas, and what is taught in these schools. The children are being brainwashed with religion. So my wife teaches our children at home."
Al-Khateb says indoctrination isn't the only concerning issue. "For the boys, the recruitment process begins while they are still children," he said. "I have a son who is 13 years old. To HTS, he is old enough to fight. I know children the age of my son, from my village, who are now with HTS. They are destroying our children to make themselves stronger."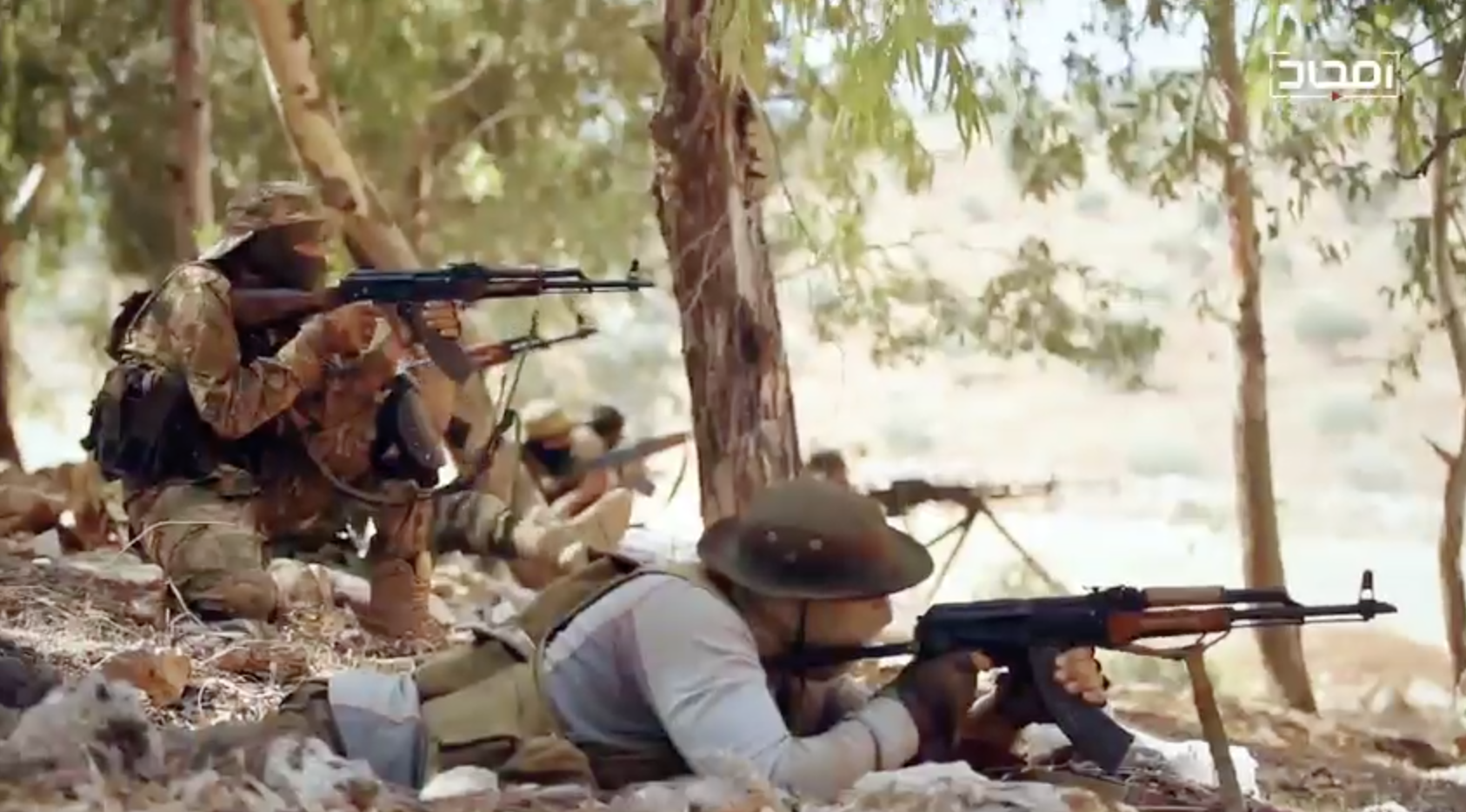 This week, HTS announced a new recruitment initiative. They shared a short video featuring HTS militants in training and WhatsApp numbers to reach HTS, should one wish to join them. I put my burgeoning Arabic language skills to use and contacted two of the numbers. I sent a WhatsApp message to the first number from my personal WhatsApp account.
"Hello. Can I join?" I asked.
"Are you a girl or a boy?" the account responded. "Where are you from? Is that your picture?" the account asked, referring to my WhatsApp profile picture.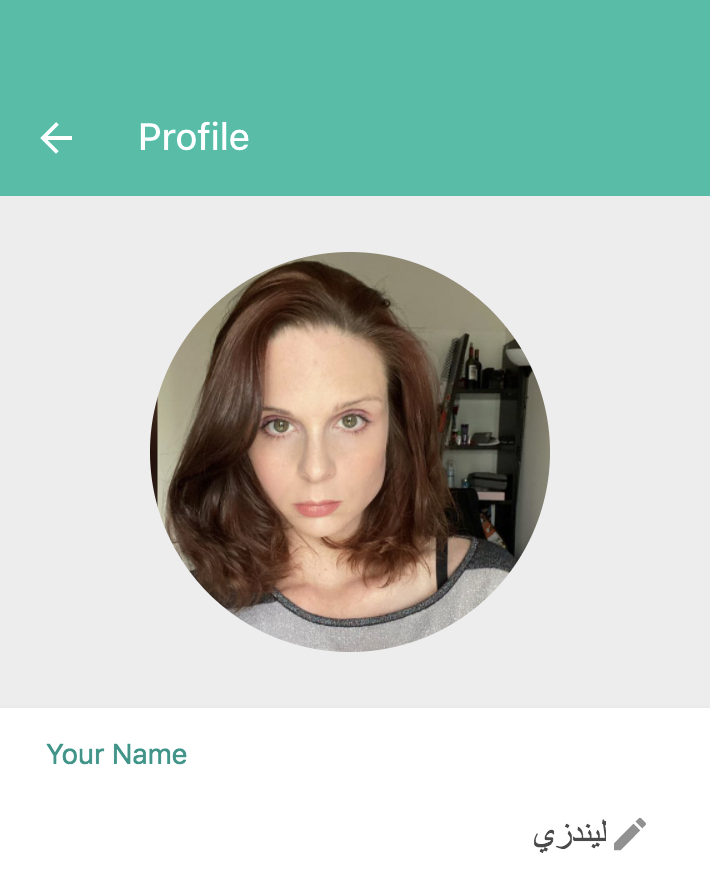 "I'm from America," I said, "but I live in Germany. Yes, it's my picture."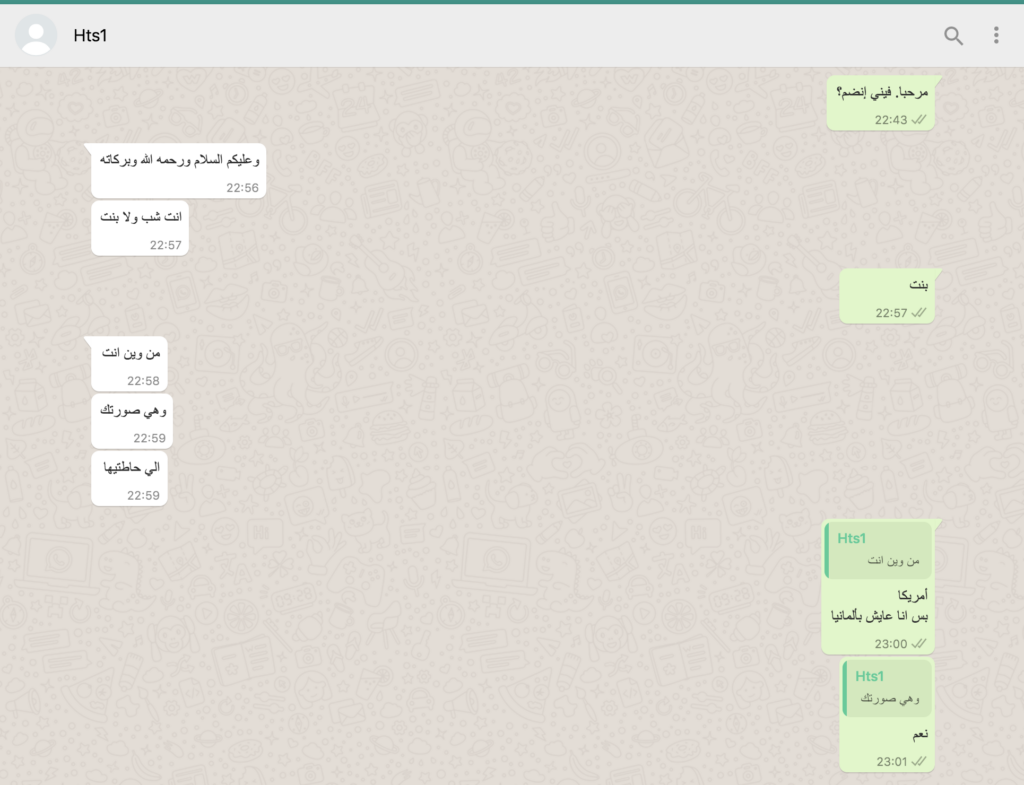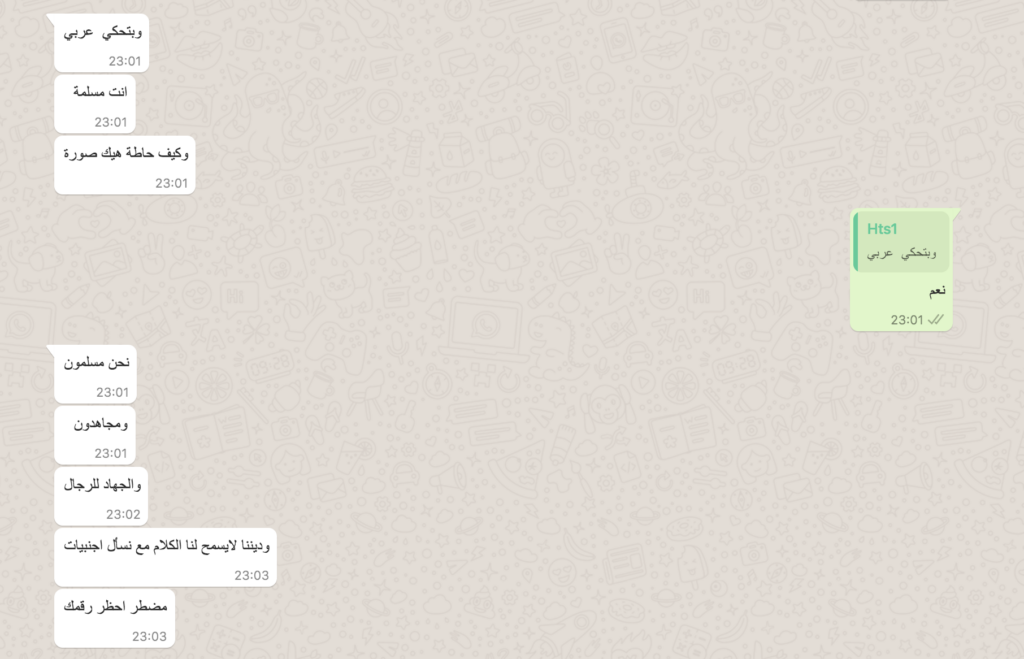 The account responded rapidly. "And you speak Arabic? Are you Muslim? How could you put up such a picture? We're Muslims, and mujahideen. And jihad is for men. And our religion doesn't allow us to speak with foreign women. I have to block your number now." 
After being blocked by one HTS recruitment account, I messaged another from different phone number. "I want to join, God willing," I wrote. The second account responded with an informative and clearly pre-written response.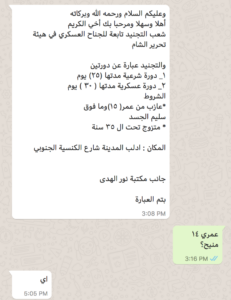 "Hello and welcome, my dear brother. The recruitment happens in two cycles. The first is a Sharia course for 25 days. The second is a 30 day military course.
The requirements to join:
A healthy body;
if single, 15 years of age or older;
if married, 35 years of age or younger.
Report to Church Street in Idlib, next to Nour Al-Hoda Library."
"If I'm 14 years old, is that ok?" I asked.
"Yes," the account responded.