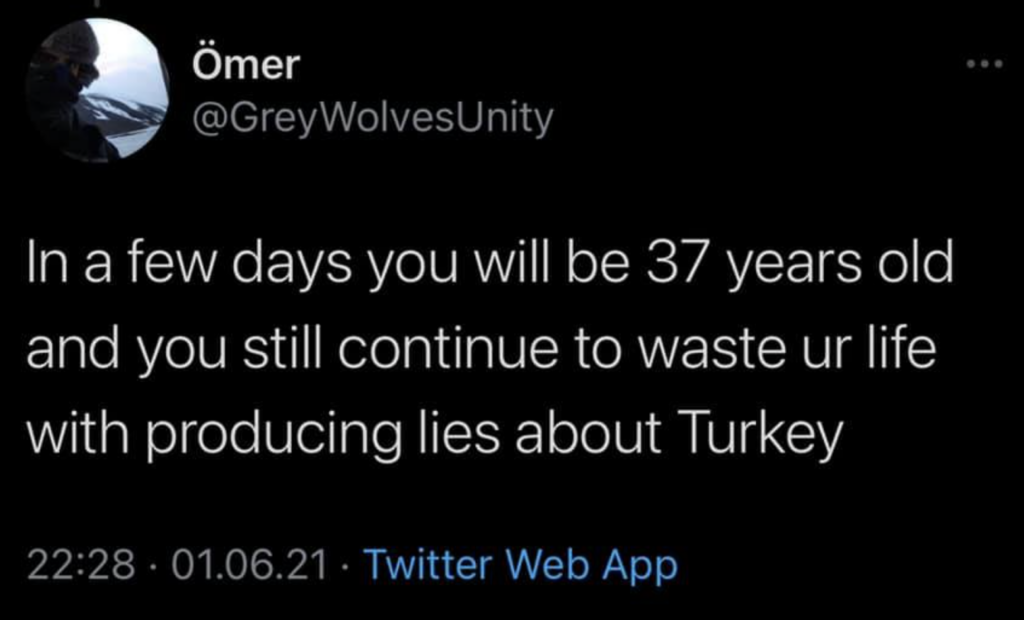 Two days before my birthday, an unsettling tweet appeared in response to something I'd posted. The account's username was @GreyWolvesUnity, a reference to the Turkish ultra-nationalist Grey Wolves movement, considered a terrorist organization in France, Austria, and a number of other countries. "In a few days you will be 37 years old and you still continue to waste ur life with producing lies about Turkey," the tweet said.
When some cursory googling failed to reveal my date of birth, I was mildly distressed, but a friend linked me to a search engine that revealed not only my birthdate, but my voter registration party affiliation and my previous addresses in the United States. "Happy early birthday. You forget how to use the more powerful version of Google that's routed through Quantico?" he joked.
Later, presumably sensing I wasn't scared by the tweet citing my birthdate, the account posted another tweet. "Btw, do you see traitors who r so called Turkish around [my home address]?" My blood ran cold. In Germany, where I've lived for four years, strict privacy laws prevent public access to private addresses. I took great care to never post identifiable pictures of my building, and never geotagged my neighborhood.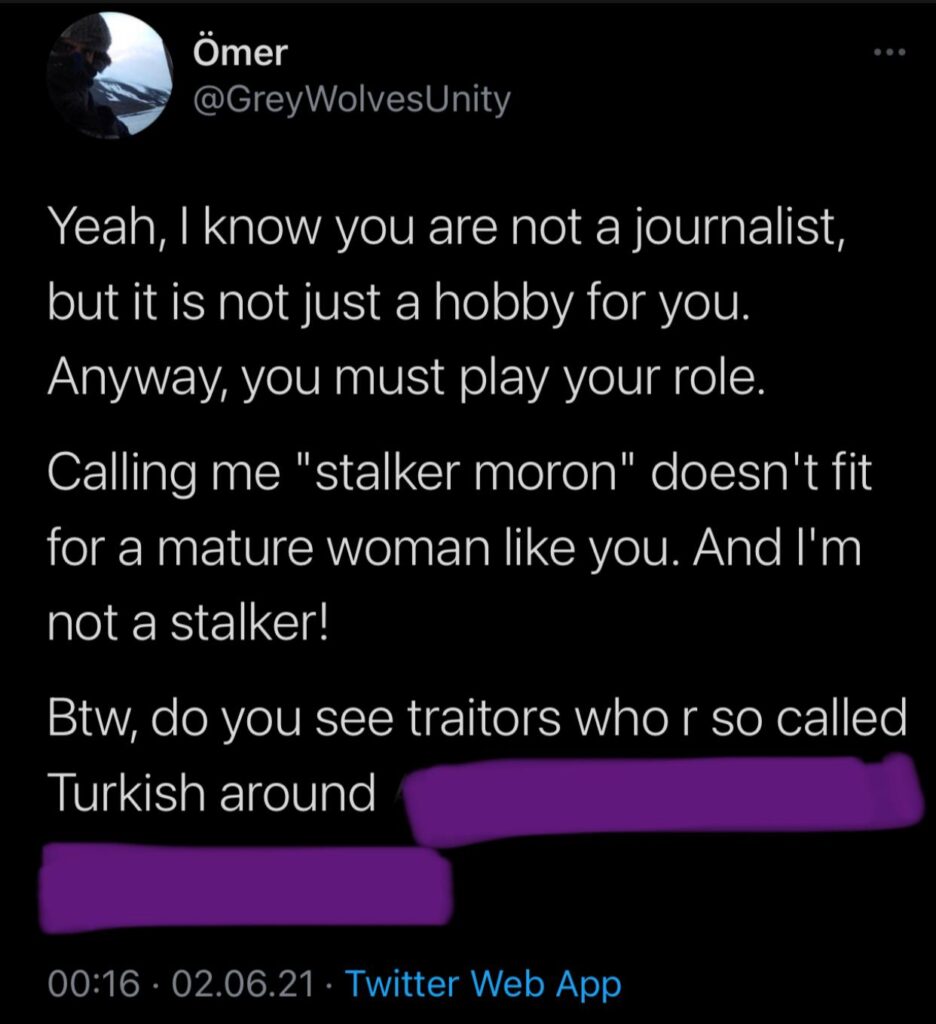 A popular target for Turkish troll accounts, I've unsuccessfully reported hundreds of abusive, rule-violating comments from similar accounts to Twitter. Twitter took no action against comments in which users called me a prostitute, a terrorist, and spread outright lies about my work. Still, I expected reporting tweets that revealed my home address, a rule violation explicitly spelled out in Twitter's terms of use and an extreme safety hazard, to be removed by the platform.
I reported the tweets that included my address to twitter a dozen times each. In response, I received a dozen emails from Twitter telling me that the tweets didn't violate any rules.
Eventually, someone working for the EU Parliament reached out to me and offered to escalate the matter to a Twitter office in Europe. After being up for more than 12 hours, the tweets were finally removed. The @GreyWolvesUnity account, however, remains active. In the time the tweets were visible, a number of other pro-AKP accounts copied my address and began posting it themselves. I reported those tweets, too, and received responses from Twitter telling me they violated no rules.
@GreyWolvesUnity's Twitter account is little more than thousands of tweets promoting the AK Parti, Turkey's ruling political organization. The account regularly retweets Turkish President Erdoğan and Interior Minister Süleyman Soylu. Among @GreyWolvesUnity's followers is Melih Gökçek, the former Ankara mayor responsible for blowing $750 million in public funds on a failed dinosaur-themed amusement park.
Turkey's AK Parti has a long history of abusing Twitter. In June 2020, Twitter revealed that they'd identified and eliminated 7,340 accounts linked to the Turkish government. Twitter made spreadsheets of the thousands of tweets made by the government-linked available for download. I was able to find several tweets in the purged material that were directed at me. In one, I was referred to as a "schlampe," a German profanity meaning prostitute. Essentially, the Turkish government called me a whore.
Fahrettin Altun, communications director to the Turkish Presidency, slammed Twitter in response to the platform's purge of Turkish state-linked accounts, saying, "…Twitter is no mere social media company, but a propaganda machine with certain political and ideological inclinations," and, "We would like to remind [Twitter] of the eventual fate of a number of organisations which attempted to take similar steps in the past," a threat referencing the Turkish government previously blocking access to Wikipedia, YouTube, and Twitter in country.
Despite the 2020 purge of state-linked accounts, Twitter has done little to combat the AKP's continued abuse of their platform. A recent study by the Ecole Polytechnique Federale de Lausanne on Twitter's Trends algorithm found that 47% of local trends in Turkey and 20% of global trends are fabricated. Of the 802 Trends in Turkey analyzed in the study, 348 were pro-AKP and 124 were directed against the CHP, the AKP's chief rival political party. 
"#SuriyelilerDefolsun is a derogative slogan meaning 'Syrians Get Out!' the report mentions. "The hashtag grabbed the attention of the wider public due to its negative sentiment and sparked controversy in Turkey despite being [faked.]"
I'll likely never discover how a pro-AKP account got my home address, but the impossibility of a member of the public accessing this information indicates that the account holder either works for the German government or knows someone who does. It has been alleged that the Turkish state employs thousands of spies to track the tens of thousands of Turkish dissidents who sought asylum in Germany following the 2016 coup attempt in Turkey.
Turkish nationalist influence is present in many German government institutions. Recently, DITIB, a German organization closely tied to Turkey's Diyanet, or government religious authority, was included on a board tasked with deciding the content of religious education in German schools, despite the German government previously investigating DITIB's religious officials for spying on Turkish dissidents in Germany.
A journalist friend in Turkey encouraged me to file a police report on the incident. "Look, it sounds crazy, but in case something does happen to you, this will help us to find the person responsible," she said. "We've had so many people killed this way." 
I went to the police and provided them with screenshots of the tweets revealing my home address. An officer took the report, but told me there wasn't much they could do. "This person hasn't threatened you," he added.
I laughed and nodded. A member of a violent, ultra-nationalist, terrorist organization rampant in Germany told me they knew where I lived, then proved it. It's hard to imagine more of a threat than that.